Changing the lives of individuals with intellectual and developmental disabilites. 
Help Support
The Arc of Laramie County!
Upcoming Events and Activities
The Arc of Laramie has teamed up with the EFMP Program at Warren Air Force Base from a Social Skills Class. Classes are held once a month at various locations. Call 307-632-1209 for more details.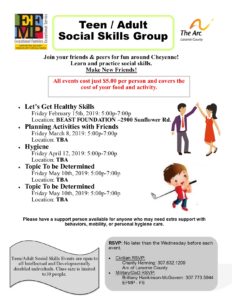 Next Bowling is February 16th, 2019
Contact Us:
Charity Henning Executive Director of The Arc of Laramie County
1302 Crook Ave Cheyenne WY 82001
Mailing Address: PO Box 1812 Cheyenne WY 82003 Phone: (307) 632-1209 E-mail: [email protected] Website:arcoflaramiecounty.com  Click here for our Facebook page
Office Hours:
Monday – Thursday 8am-3pm
Friday By appointment only
We encourage everyone to call before coming to make sure we are in the office. There are occasion where we maybe at meetings or running errands. Thank you!